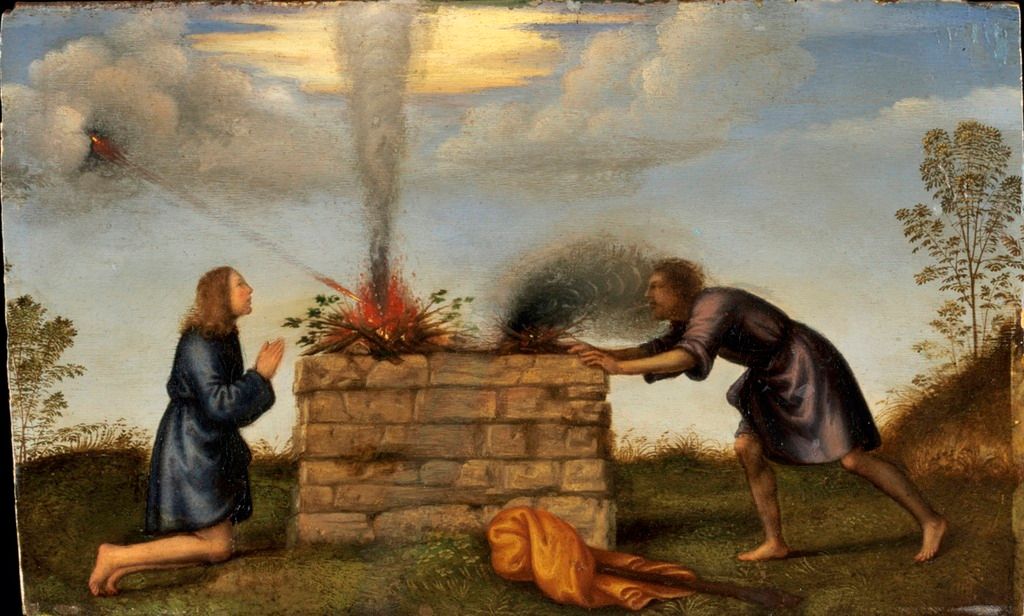 (Genesis 4:5) But unto Cain and to his offering he had not respect. And Cain was very wroth, and his countenance fell
 Have you ever felt the sting of God not being pleased with your offering? Such was Cain's story as he displayed the hang-dog look in the presence of the Almighty. Genesis does not tell us why it happened that way. The lesson is that we are not always 100% and in those times, God still speaks to us lovingly:
(Genesis 4:6-7) And the LORD said unto Cain, Why art thou wroth? and why is thy countenance fallen? If thou doest well, shalt thou not be accepted? and if thou doest not well, sin lieth at the door. And unto thee shall be his desire, and thou shalt rule over him.
 Even though Cain's first offering was not accepted, there would be more opportunities. He could learn from his error and get it right the next time. Unfortunately, the next time, he got it very wrong and killed his brother in a jealous rage.
Frankly, God has some lessons that can only be taught through disappointment, failure, and discouragement. In those moments, He wants us to do well, to make the right choices, and to master sin in our lives. These are not times for excuses, but for exponential growth.
Sin almost has mind of its own. Certainly, the evil one who tempts us to sin does. His purpose is that sin will become our master. God's will is for us to master sin. That comes through choice. Cain made the wrong choice and then compounded that wrong choice with an even worse choice and it cost him everything.
What does it take to have our offering accepted? Do the right thing. What is the right thing for you? The answer is found in the New Testament:
(Hebrews 11:4) By faith Abel offered unto God a more excellent sacrifice than Cain, by which he obtained witness that he was righteous, God testifying of his gifts: and by it he being dead yet speaketh.
God invites us to come to Him by faith. Through faith comes righteousness and we make the right choices and bring acceptable offerings. God counts our faith as "doing well" and it gives birth to all sorts of good deeds as it brightens the countenance.